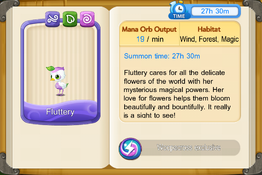 Fluttery cares for all the delicate flowers of the world with her mysterious magical powers. Her love for flowers helps them bloom beautifully and bountifully. It really is a sight to see!
Summon time: 27h 30mEdit
How to obtain:Edit
This Wooparoo is a combination of Wind , Forest  and Magic types.
        Suggested Combinations                                           Times Summoned     
Ad blocker interference detected!
Wikia is a free-to-use site that makes money from advertising. We have a modified experience for viewers using ad blockers

Wikia is not accessible if you've made further modifications. Remove the custom ad blocker rule(s) and the page will load as expected.