Hello everyone, I'm here to tell you about Wooparoo's Mountain's Facebook page and their forum. If you haven't checked them out yet you should! (Especially Facebook because event updates will be posted and contests)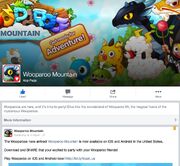 There's a contest going on in Facebook with guessing a certain Wooparoo's elements, I suggest you take a look at it. The prize is 30 gems if you're one of the people chosen as the winner, 5 winners will randomly be chosen.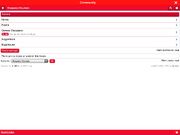 That's all from me for now! Happy playing everyone :)
Ad blocker interference detected!
Wikia is a free-to-use site that makes money from advertising. We have a modified experience for viewers using ad blockers

Wikia is not accessible if you've made further modifications. Remove the custom ad blocker rule(s) and the page will load as expected.